Two showbiz brothers have turned a lifetime of on-stage experience into a fast-growing business which is bringing new jobs to Sunderland.
Paul Waite, 37, and Peter Waite, 40, have been performing in bands, shows and tribute acts around the world since they were teenagers.
Among their many musical guises are their starring roles in the UK's most famous Take That tribute act, Re-Take That, with Paul as Gary Barlow and Peter as Howard Donald.
They are now enjoying backstage success too, with their entertainment business, i-Stage Group, growing rapidly since its inception in 2013.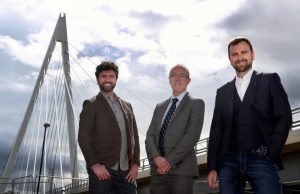 The company supplies event services and entertainment nationally and globally, with an extensive range of acts, singers, bands and performers on its books – providing both one-off and seasonal programmes of shows.
As a result of their success and growing workforce, they recently moved into offices in Sunderland's North East Business & Innovation Centre (BIC), enabling them to facilitate further job creation in the coming months.
Paul Waite said: "We felt the need for a professional base which could incorporate all elements of the business. The BIC was recommended to us and after taking a look we just knew that being based in close proximity to other fresh and forward-thinking businesses would be perfect for us. There is a great sense of community here and we wanted to be part of that."
Recent successes for the firm include being commissioned to provide the musical entertainment at last year's Sunderland International Airshow. i-Stage is also working with a growing list of hotel chains and holiday parks, while bookings for productions at Christmas 2018 are already 500 per cent up on 2017.
Peter Waite added: "We have a strong national presence and work with well-known holiday parks across the country – and also provide entertainment internationally. Our five-year plan includes satellite offices across the UK, although the heart and soul of i-Stage will always remain in the North East."
The company's move to Sunderland was supported by the business investment team of Sunderland City Council.
Irene Lucas CBE, chief executive of Sunderland City Council, said: "The founders of i-Stage have successfully managed to turn their passion for music and entertainment into a high growth business with a bright future. Creative businesses are thriving in Sunderland currently and it's great to have another one bringing new jobs to the city."
For more information on i-Stage Group visit www.istagegroup.com. For more information on investing in Sunderland go to makeitsunderland.com